BREAKING E! NEWS
If you know of a local news story that might be featured here, please Let Us Know.
Benefit Concert for Larry Dewese
Musician Skip Gosnell organized the event. Anita Brix wrote about it.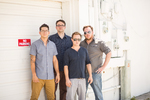 ZEDDEMORE
NKF RICH SALICK PRO-AM SURFING FESTIVAL
Surf's up at the 33rd Annual NKF Rich Salick PRO-AM Surfing Festival featuring the Ron Jon Surf Shop Men's Pro, taking place Labor Day Weekend, September 1st through the 3rd, at the Westgate Resorts Cocoa Beach Pier.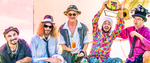 ORANGA TANGA
Explaining the sound of Oranga Tango is an oxymoron. It's not just the sound anyway, it's about the entire presentation. Their latest move was to add muppets to their show - yes, that's correct, muppets that Jared bought from amazon.com.
KelMarie
Her story is one that is not unlike many: aspiring songwriter dreams of someday debuting on stage to glory and fame. Then school, relationships and "real world" responsibilities would put it on hold. For years. For many, these pipe dreams would have stayed put in an old scrapbook pulled out on Friday nights. But for Kovach, aka KelMarie, it spawned a seconnd life and chance in the Sunshine State.