Welcome To The Home Of Brevard Live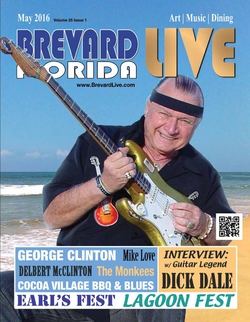 FEATURES
LAGOON FEST
This festival wants to create awareness and raise funds for the Marine Resources Council whose goal it is "to save the lagoon." George Clinton, friend of the late Prince, will perform as headliner.

EARL'S FEST
For the 9th year Earl's Hideaway in Sebastian will present another unforgettable festival of music on Memorial Day weekend - Earl's Fest - featuring an incredible amount of talent and national performers. Best of all, there's no admission charge.

DICK DALE
John Leach had the pleasure to conduct a rare interview with the legenday guitar player and king of the surf guitar, Dick Dale who will perform at Lou's Blues.

CONCERT REVIEWS
Matthew Bretz went to see the Rusted Root concert. Charles and Lissa Knight watched the performances of Uli Jon Roth, Andy Timmons, and Jennifer Batten. These Brevard Live music writers were enthusiastic about the intimacy of the Studio Theater at the King Center.

COCOA VILLAGE'S BBQ & BLUES
This event has been growing for the past five years, and this year it hosts the actual Florida BBQ Association's State Championship. Come hungry.

ESCAPE!
The escape room phenomenon is spreading like a wild fire, and it has reached Brevard County. Not sure what an escape room is? You're not alone. Charlene Hemmle visited "Locked InSide" to tell you about her experience.